Fishing Report
DELACROIX, LOUISIANA REPORT: 9/22/16
The speckled trout are making their annual late summer/early fall transition. This means that they are spotty at the moment, but fair numbers can still be caught. Within 2-4 weeks, however, daily limits of them snaggled tooth yella mouthed trout will be hitting the ice chests with ease!! The redfish are simply EVERYWHERE this time of year and will continue to get better and more congregated as the fall and winter progress. Live shrimp 2-1/2 feet under a Boat Monkey Float popping cork has been the ticket for both species. As the weather cools off, I will make my switch to a Matrix Shad under that popping cork for fast non-stop action on those trout. If you live in Louisiana or just coming to visit, we are only a short 30 minute drive from downtown New Orleans. The fall and winter of 2016 is going to be a bumper crop! So give me a call before it's too late and there is no spots left! You'll be glad you did!
YOU'RE ONLY ONE CALL AWAY FROM A TRIP OF A LIFETIME!
504-281-8287
The Boat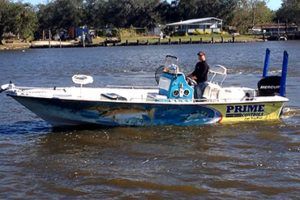 Captain Nick's boat is a roomy, sturdy, dry riding 24 foot Blazer Bay bay boat powered by a powerful and reliable Mercury 250 Pro XS Optimax and is professionally equipped with dual 10 foot Power Pole Blades. You will enjoy rippin' some lips while listening to your favorite fishing jams through the quality sound system provided by MB Quartz and Kenwood marine. Stealthy approach to those tailing redfish is all provided by a Minn Kota 101 lb thrust I-Pilot trolling motor.
The Guide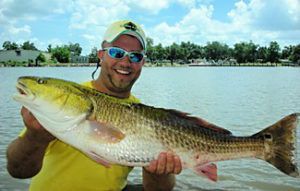 Hey Y'all! My name is Captain Nicholas Rando, owner of Fishaholic Fishing Charters, a fishing guide service with headquarters in Delacroix, Louisiana. I specialize in New Orleans, St. Bernard and Delacroix saltwater charters.
For starters, I'm a local native that grew up fishing and hunting the honey-holes in and around New Orleans, Louisiana. I've been a full time fisherman since I was 3 years old, and a professional New Orleans fishing guide for over 10 years. This is my passion in addition to being my full time career. I devote my heart and soul into making sure that you and your guests have the trip of a lifetime. Customers have respectfully complimented in the past that "one will be hard-pressed to find a guide that knows marshes and bayous of New Orleans better than Nick." Having this experience is crucial in making absolute sure you have a safe and fun filled day on the water. If your desire is to catch inshore saltwater gamefish like big specks, reds, flounder, and drum you'll find them in abundance in the waters surrounding St. Berndard and Delacroix. If you're looking to head offshore for tuna, amberjack, wahoo, snapper, or grouper, you've come to right place for that too! Bring your friends, family, kids, business associates. Shoot, bring the dog if you need to! Everyone is welcome on my boat. It doesn't matter if you're a professional, a beginner, or anywhere between, I'll make sure you have a great time while catching lots of fish. I'll even tell you how to cook them! Lodging accommodations are available for up to 24 guests with full kitchens, bathrooms, showers, comfortable sleeping arrangements, and a balcony overlooking the bayou… just right for enjoying the catch of the day and a few cold ones!